Main Content
Mission: Happy Pets
Holistic Home Boarding
for Your Dog in Greater Miami
Or, for the less adventurous, in-your-home care or scheduled visits for their creature comfort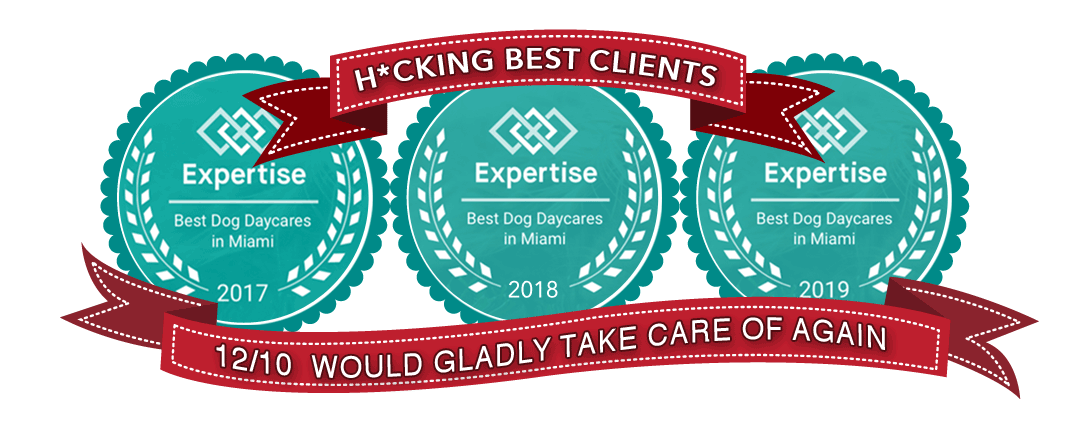 Expertise.com picked MiamiDogSitting.com as one of the best dog daycare services in Miami.
We want to thank our clients & their humans for making work so much fun! This award is really for all of you, too.
Available Services
Overnight Boarding $42-$50
Overnight Sitting in Your Home $75
Daycare (discounts available) $30 per day
Dog Walking $35 per half hour
Baths (please inquire)
Drop-in Home Visits (service area up to 5 miles)
Pick-Up & Drop-off (up to 10 miles) $10 each way
Same Day Bookings (Depending on Availability)
Available for In-Home Sitting of Non-Canine Animals
Dog Training, Rehabilitation (please inquire)
What To Expect
Smoke-free Holistic Environment with Fenced-In & Locked Yard
Fully Air Conditioned Inside
24/7 Supervision
Senior Dogs Accommodated
Can Administer Medicines
CPR/1st Aid Certified
Must Be Spayed or Neutered
Must Be Vaccinated
Exercise-Fun Times
Unlimited Belly Rubs and Love
HOSTING THE HAPPIEST DOGS
IN MIAMI SINCE 2002
It would be an absolute honor for me to care for your beloved pet.
WHO'S A GOOD DOG?
Find out just how good a good dog is while vacationing with the Miami Dog Sitter.
See the pictures clients receive of the doggy guests during their stay with Daisy
---