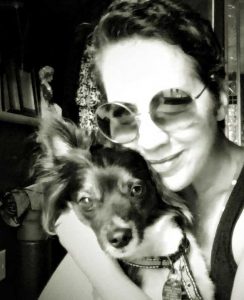 There have been dogs in the family ever since I was a newborn, and have been boarding and pet sitting for about fifteen years officially. I have extensive experience with many breeds. What started out as the constant favors for sitting family and friends', as well as friends' friends' animals, has evolved to become a work of love and commitment to healthy interactions and nurturing for animals. It's a business, but a very personal business to me.
My extensive background in the healing arts (such as energy work) has somewhat exalted my positive experiences with animals and, in turn, their interactions with each other. Throughout the years, I've had 'special needs' animals in my care (i.e. diabetes, behavioral issues). I've given insulin shots to a few dogs (and cats), and have become quite proficient with these.
The entire house is open for the dogs to play, relax and sleep, however, there are dedicated spaces (playpens and crates) where each dog hangs out, sleeps, and eats. Outdoor spaces and doggie pool are a must for happy dogs! There is 24/7 supervision by me personally, constant awareness of the dog's needs is what sets Miami Dog Sitting and Boarding apart from the pack.
Behavioral training is available as a separate service. As Cesar Millan says: "I rehabilitate dogs, I train people." That is my motto as well.
It would be an absolute honor for me to care for your beloved pet.
Reserve or Inquire about Dog Training/Rehabilitation